The Official 2021-2022 GDRHS Handbook has been posted under 'Documents'. Please take a moment to review this information for the upcoming year!
PAVE Cafe is back! Thank you to the staff and students for preparing delicious egg sandwiches and baked goods for purchase during WIN Block. PAVE Cafe occurs weekly on Friday if you want to come prepared with a few dollars next week.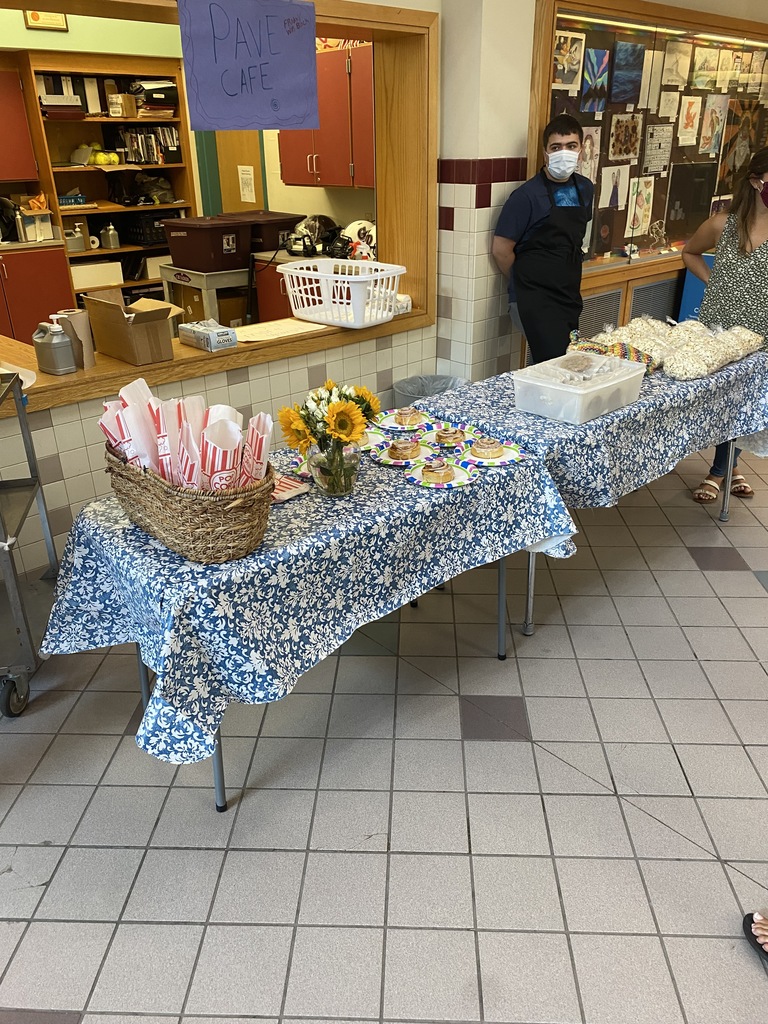 A BIG shout out to our school's nurse's, Cheryl Shea and Leah Caruso, for successfully conducting our first day of COVID Safety Testing! They tested around 260 staff and students during our WIN block today. Thank you for your efforts to help keep us healthy and safe!
Don't forget to check out 'Dining' from our new app menu! This is a great way to view upcoming meals at your child's school! Special thanks to Ms. St. Laurent for adding meals to our new app!
Mr. Woodlock speaks to sophomores during their class meeting about the High School's Core Values of Integrity, Respect, Balance, and Perseverance.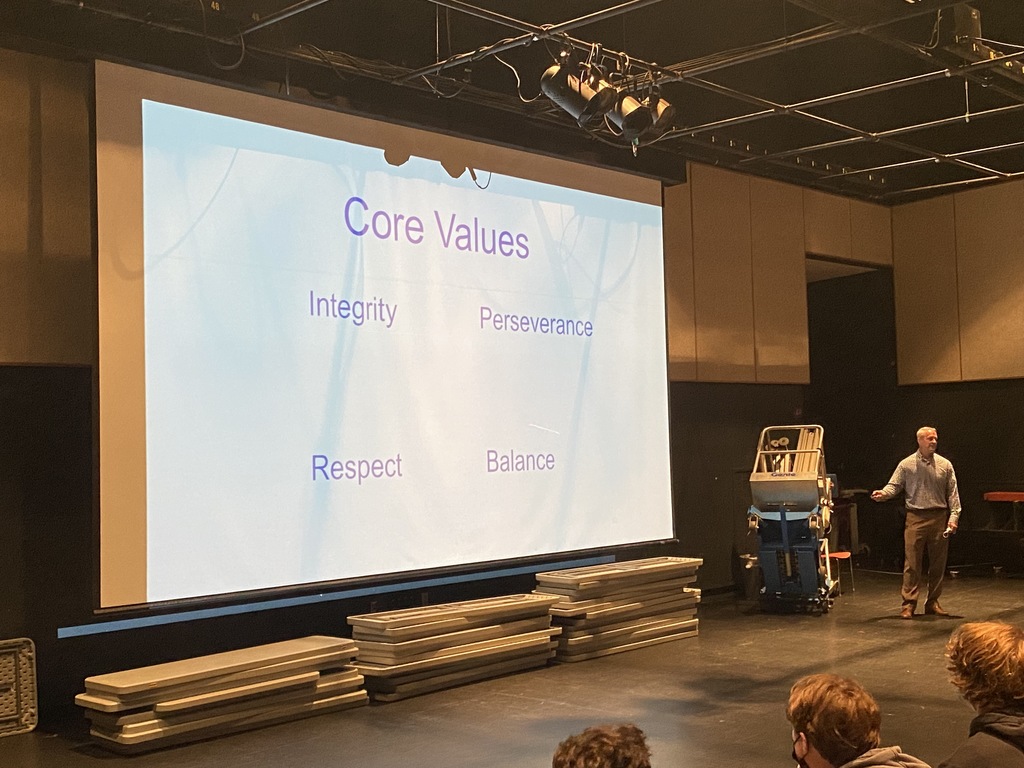 A quick reminder for those of you that drop your student(s) off at the high school, the drop off is by the tennis courts (C-Wing). We are going back to our drop-off routine pre-quarantine therefore NO vehicles should go behind the building to drop off at B or A wing entrances. We have a number of vans that drop-off students at A-wing, please help us have a smooth and safe drop-off & pick-up and enter and exit by the tennis courts for drop-off. Many thanks!
Today was a great day having all of the students and staff back in the building at once doing what we do best, together! The administration held a class meeting with the freshman to welcome them to GD, share our Core Values (Balance, Integrity, Perseverance, and Respect), and review school rules. A big thank you to our Freshman Orientation Leaders! It was through their efforts that contributed to a successful day for our Freshman! Class meetings will be held for sophomores thru seniors throughout the day tomorrow (9/2). We're already looking forward to tomorrow! WELCOME BACK EVERYONE!!!
The GDRHS Staff are excited to welcome our students and families back this school year! We have a few reminders before day one of a new year tomorrow. Student's are allowed to enter the building at 7:12 a.m. Until then, we ask students stay in their vehicle or bus until that time. If you are driving to school, be sure to park in the spot assigned to you and have your parking sticker displayed on the rear windshield on the drivers side. If you are being dropped off, please turn right at the bottom of the drive, pass the tennis courts on your right, and take a U-Turn at the end so you can drop your student off at the "C" Wing doors and exit the way you entered. Be sure to get some good rest tonight so we can have a great kick off on the first day of school this year!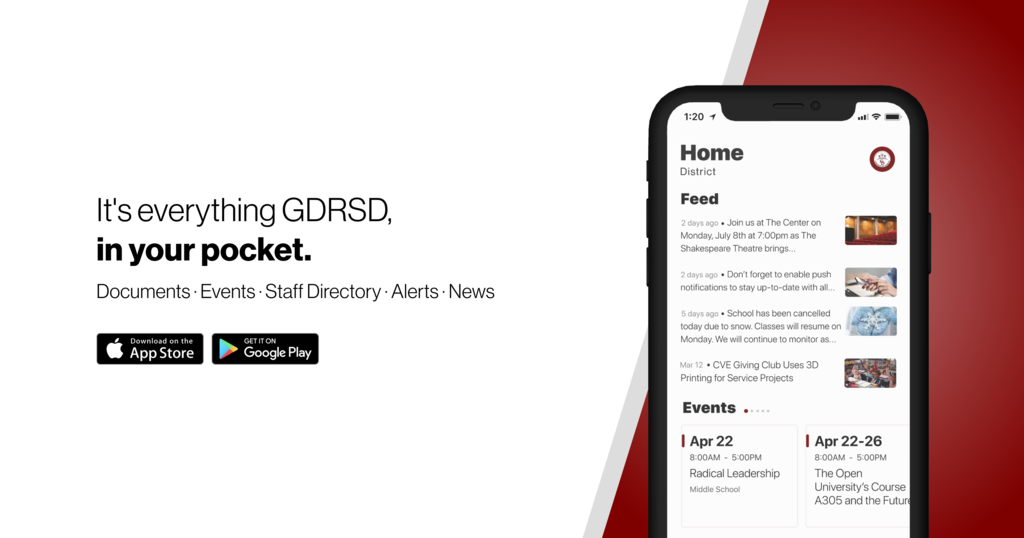 The Official 2021-2022 GDRSD School Calendar (revised 8/25) has been posted under 'Documents' at each school and the district website! #gdrsdchat
Please visit our new 'School Hours' page for start and end times for the upcoming year! |
https://www.gdrsd.org/page/school-hours
| Start and end times are also listed on the footer of all pages at each school! #gdrsdchat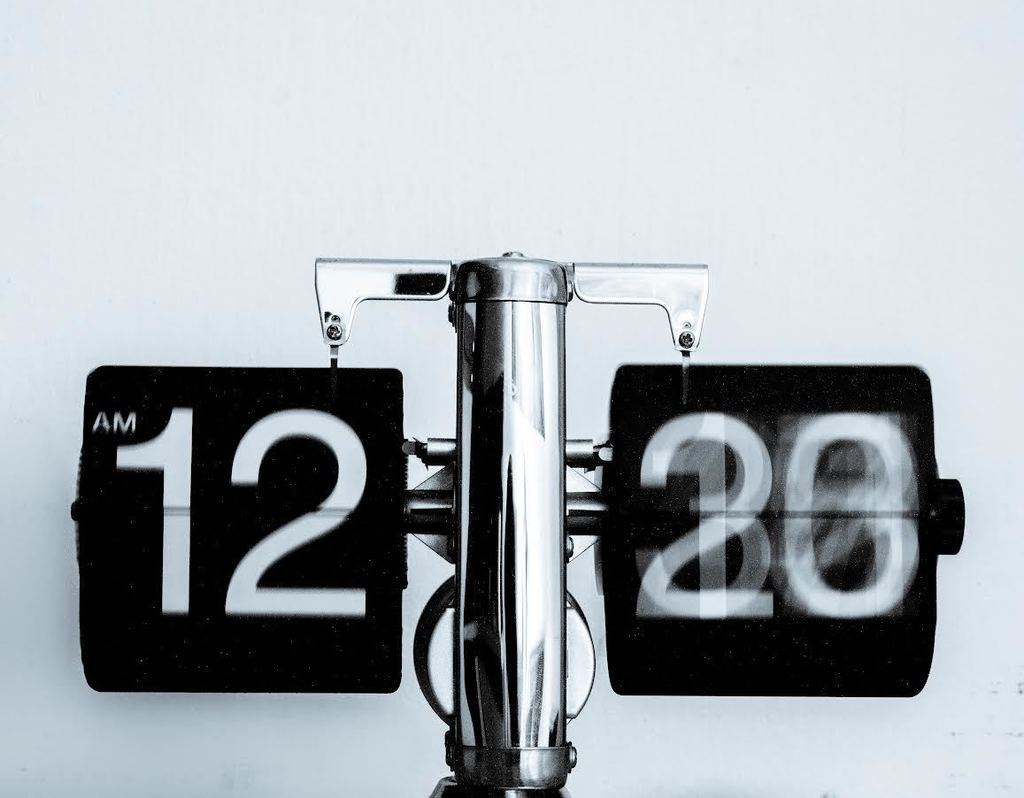 We're thrilled to announce Groton-Dunstable Regional School District's new app! Access documents, events, news updates, even emergency notifications. Download the app on Android:
https://bit.ly/3ed36NY
or iPhone:
https://apple.co/3k91J6Q
.
Make sure to see the updated news post on the Summer Reading program!
Welcome to Groton-Dunstable​ ​Regional​ ​High​ ​School's new website and mobile app!