GD Players Presents "Alice in Wonderland" at the Black Box Theatre, a 7:00 p.m. show on Friday, March 31st, and shows at 2:00 p.m. and 7:00 p.m. on Saturday, April 1st!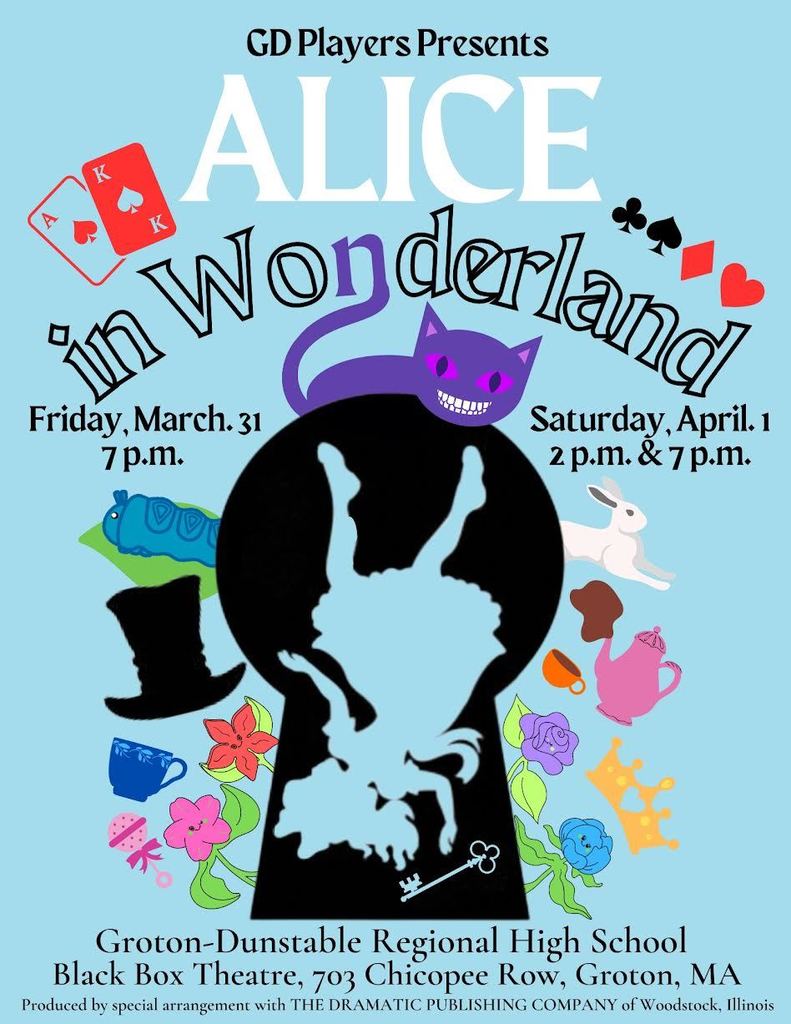 A big congratulations go out to Leah Kinnon '24, who is now a national award-winning artist. Leah won a Massachusetts Gold Key and a National Silver Medal in the highly competitive Scholastic Art Awards for her charcoal and mixed media drawing, Test Day. Leah was recognized and presented with her Gold Key award on March 18th, 2023, at the awards ceremony at Tufts University. Test Day is on display at Breed Memorial Hall at Tufts University until March 25th.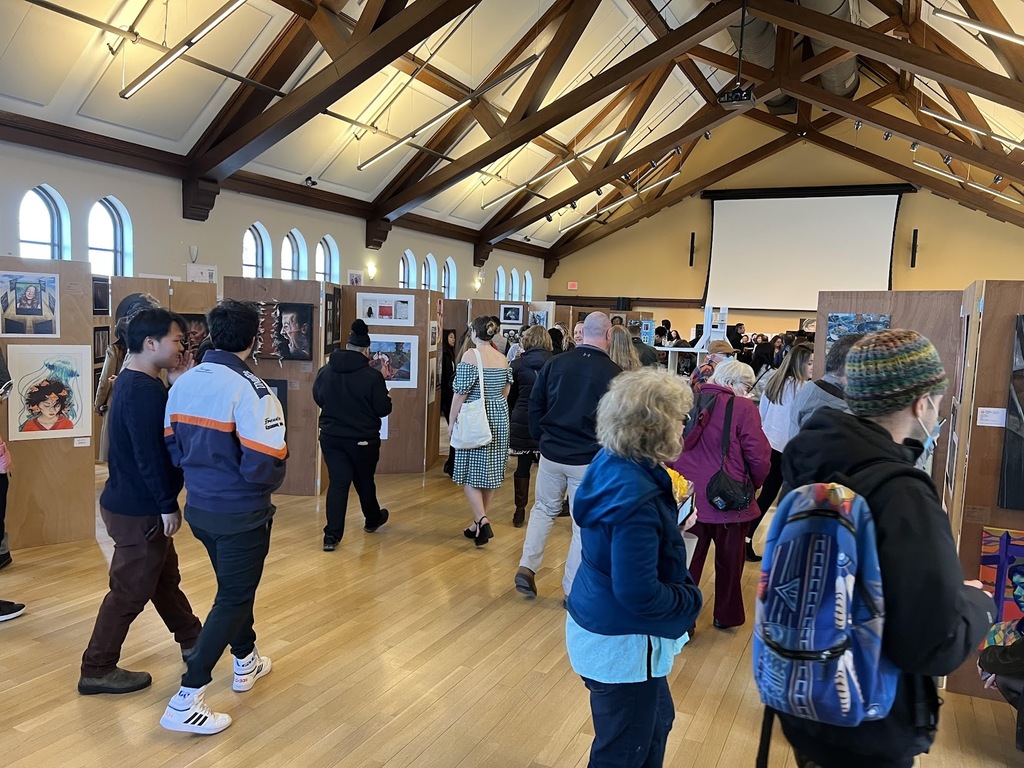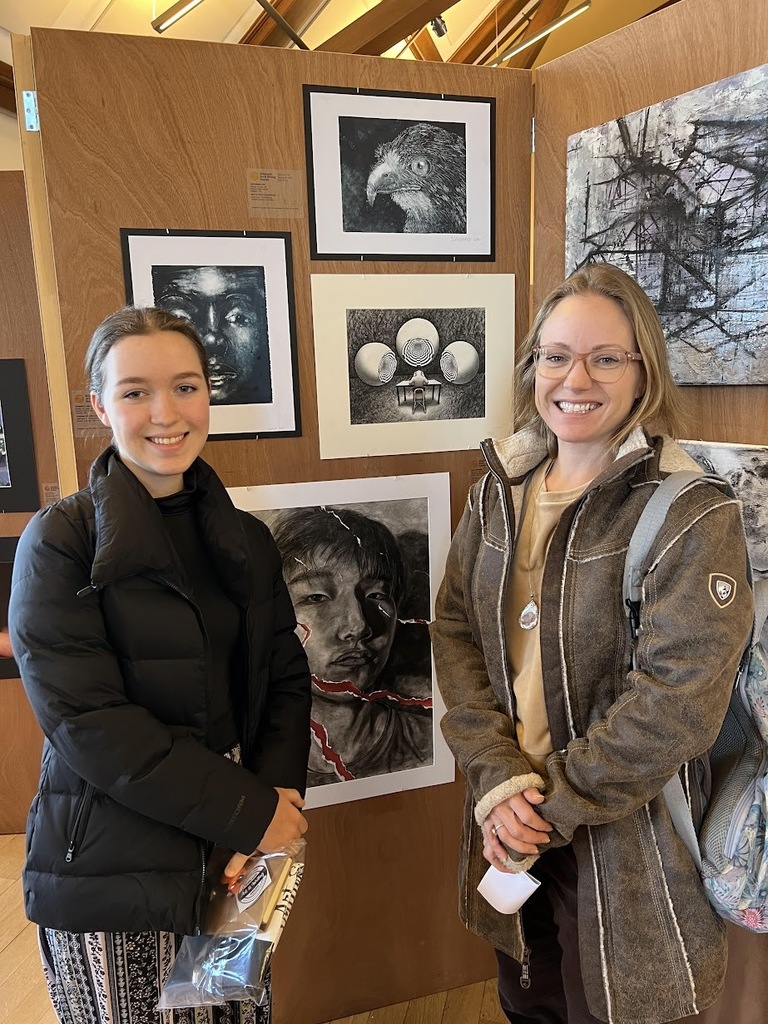 Semester 2 Open House Just a reminder that GDRHS will be holding our semester 2 Open House tomorrow, 3/9, beginning at 6:00 p.m. in the Black Box. Please bring a copy of your student's schedule. Thank you and we look forward to seeing everyone tomorrow evening.
Families and staff, Due to the impending snowstorm which will significantly impact our ability to bring students safely to school, GDRSD will be closed on Tuesday, February 28th. Best regards, Laura Chesson, Superintendent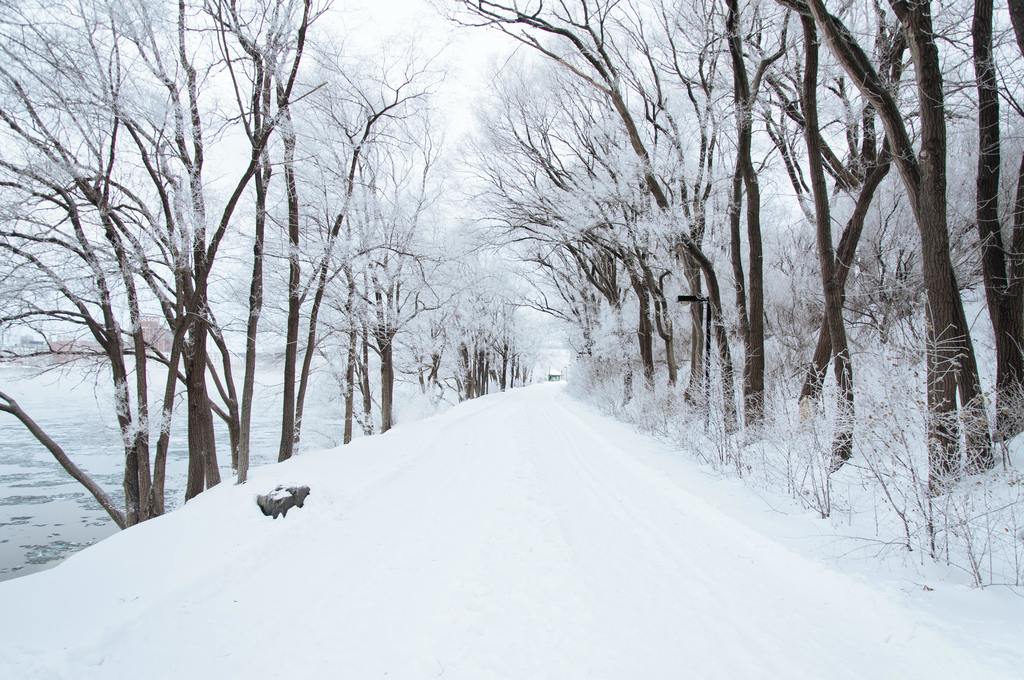 In order to ensure that all of our elementary students arrive home prior to the onset of significant snowfall, Groton Dunstable Regional School District will be dismissing 1 hour early today. ALL schools will be dismissing one hour early. Afternoon preschool will be held be dismiss at 2:00 pm. All after school activities, including after school care at the Twomey Center are cancelled.

Final Exam Makeups: due to the snow day, we will move our exam makeups to tomorrow (Tuesday, 1/24). Students who have makeups to complete are expected in school. Students who do not have makeups to complete will have their absence excused if they do not attend school. Semester 2 will begin on Wednesday. Thank you for your patience and support.
Out of an abundance of caution Groton-Dunstable will be closed today, Monday, January 23rd. We have just received word that power lines are down due to weather conditions near the high school, with the need to re-route some motorists. The conditions on the roads are variable. However the temperature is forecasted to continue to drop and the snow is forecasted to return, heavy at times. Things during dismissal are expected to be the worst and may result in unsafe conditions.

Finals Makeup: Due to the snow day on Friday, finals makeup will be held on Monday. This will be a full day and will remain Semester 1. Students who have a makeup exam are expected to attend. Students who do not have a makeup exam will have their absence excused if they do not attend. Buses will run per usual. Thank you for your understanding and flexibility.
Due to continually deteriorating road conditions, the Groton-Dunstable Regional Schools will be closed today, Friday, January 20th. We apologize for the last-minute notice.

Final Exams: Just a reminder that tomorrow (Wednesday) & Thursday will be early release days due to final exams. All students are expected to attend both days and buses will leave the school at 10:50. Also, Friday will be a make-up day. Only students who need to make-up an exam and/or other work are expected to attend. Buses will also leave at 10:50. Thank you.

We had another great day with our ADL partners and World of Difference students. This group has had a positive impact on the entire GDRHS community.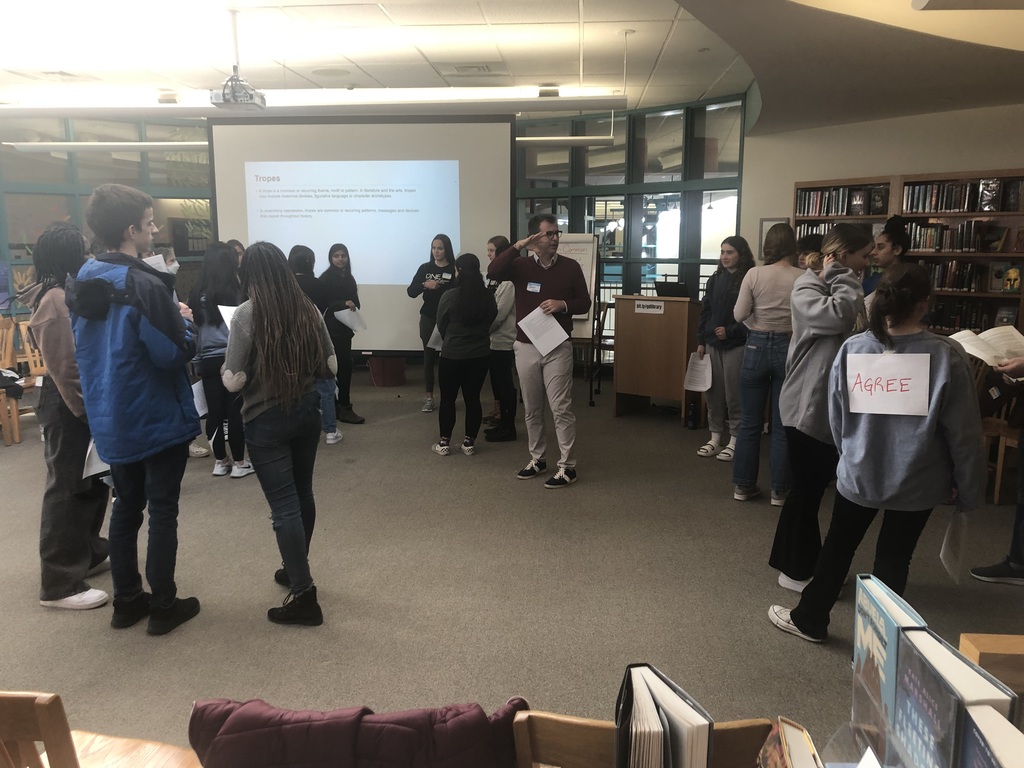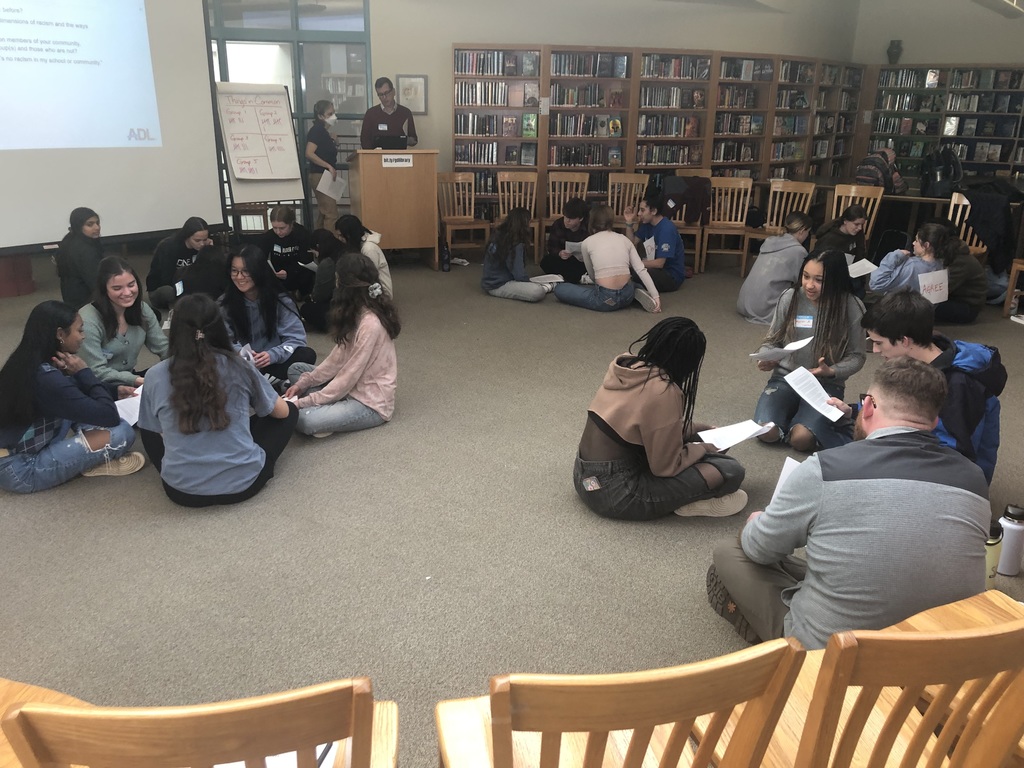 Senora Freitas's B Block class had their own version of "Food Truck" offerings today. Students had to research traditional food from the Spanish speaking country that they selected, analyzed and compared the products, practices, and perspectives of food culture in their country compared to that of the US, and learned how to communicate in culturally appropriate ways. Additionally, the food was tremendous!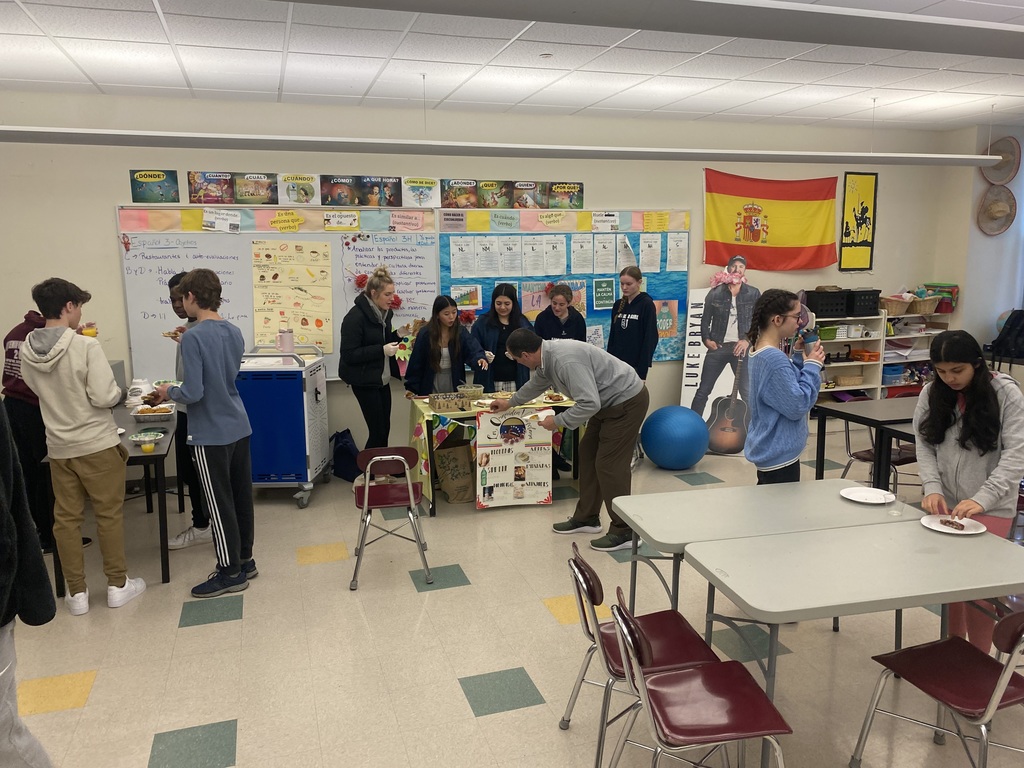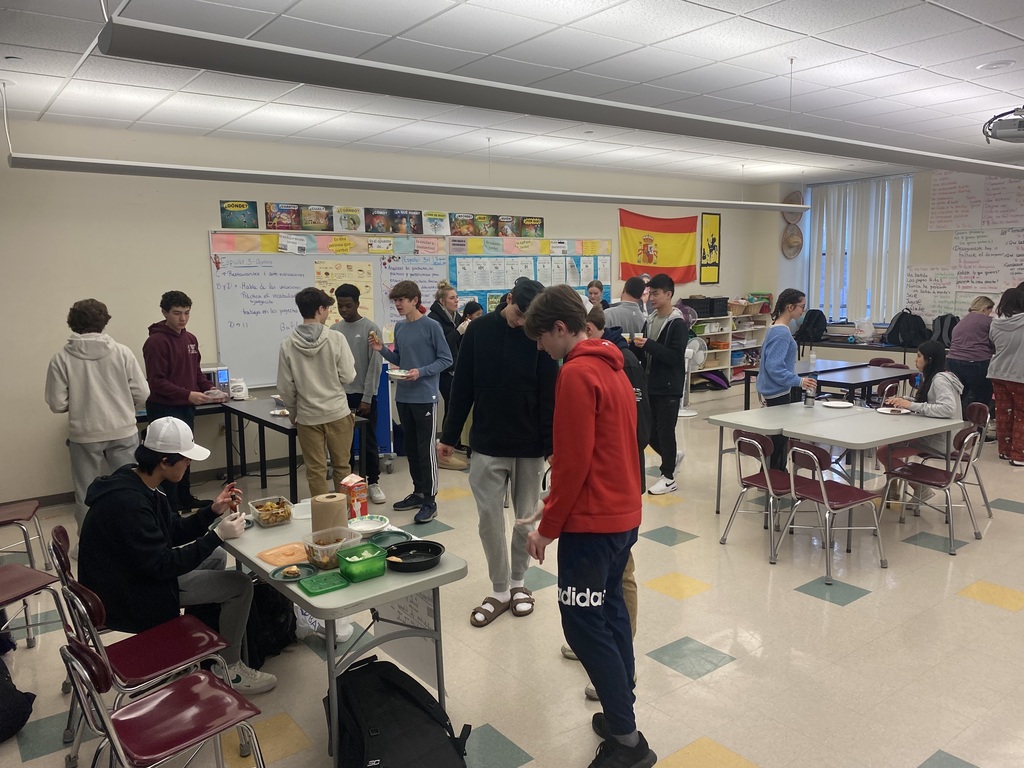 Friday Dismissal As you know, tomorrow is a full day of school. However, due to the anticipated stormy weather, we will be dismissing students 5-10 minutes early. Please expect that your student(s) will arrive home earlier than usual. Thank you.

Groton Dunstable Regional High School DECA Award Please join me in congratulating the GDRHS DECA Chapter for earning Achievement Level recognition during the 2022-2023 DECA Membership Campaign. This award is given to chapters who make the "DECA experience available to more students members, keep alumni involved and engage professional members such as administrators, teachers, parents, and business partners." This is a well-deserved and great honor. Congratulations!
Attendance Alert Update & Reminder. We will be migrating to Apptegy/Thrillshare for Attendance Alerts for the High School starting on Monday, December 19th. Reminder: There will no longer be a voice call, you will receive an email and a text. The Alerts will continue to be monitored closely in the coming week.

Congratulations to Coaches Ann Valacer and Bill Kane for being named MIAA Coaches of the Year for Unified Basketball and Gymnastics, respectively. We are proud of them both and they do so much for our student-athletes both on and off the "field" of play. Thank you for being part of the GDRHS Team!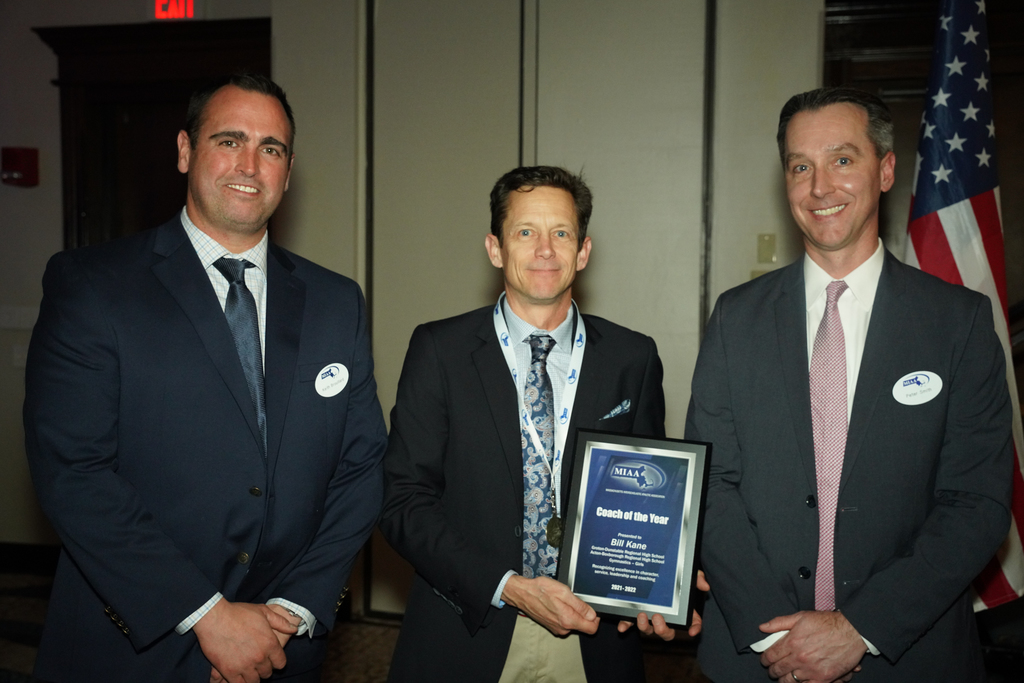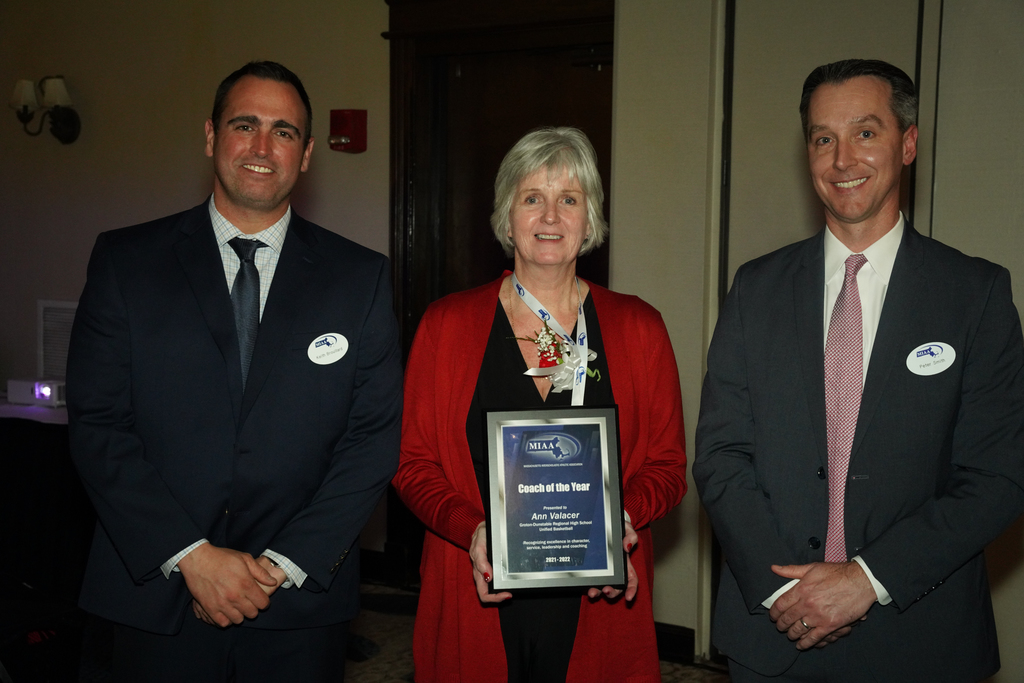 Starting next week, Attendance Alert Notifications will be sent out via Text Message and Email Only through our Apptegy/Thrillshare messaging. There will be no voice calls.
Groton-Dunstable Regional School District Students, Families, and Staff, I am pleased to introduce you to one of our newest faculty members, Bear. Bear is a therapy dog who will be a member of our student services team. I plan to bring him to the middle and high schools at least one or two days each week. Bear's purpose at GD is to provide comfort and support for students and staff. Bear is certified with the Alliance of Therapy Dogs (ATD). He has completed basic and advanced obedience courses and passed the AKC's Canine Good Citizen (CGC) test (or, as my kids like to call it, the CGB test - he is a "Certified Good Boy"!). Bear is NOT hypoallergenic. He has lots of fluffy fur and sheds a lot. If anyone does not wish to have an encounter with Bear, either because of allergies or uncertainty around animals, he is well-trained and will not approach anyone unless I give him permission. If you see us walking in the halls and you do want to interact with Bear, he is sweet and friendly and will be SO excited to meet you and get patted. He has a gift of making everyone he meets feel special. To start, I will be bringing Bear for a few hours at a time, so he can get used to the unfamiliar environment and being around lots of new people. Later, as he learns more about working in a school as a therapy dog, he may be available to meet students for scheduled appointments before or after school or during lunch. (No skipping class or lining up at my office door to say hi to Bear, sorry!) If you have any questions or concerns, please feel free to reach out to me or to your building principal. Thank you! Jennifer Schultz Bray, MA ET, LMHC, LSAC, REAT she/her/hers (why I share my pronouns)
jschultzbray@gdrsd.org
District Social Worker/Adjustment Counselor Groton-Dunstable Regional School District High School - Rm 127B 978-448-6362 Voicemail x1272 Middle School North - Rm 147A 978-448-6155 Voicemail x2145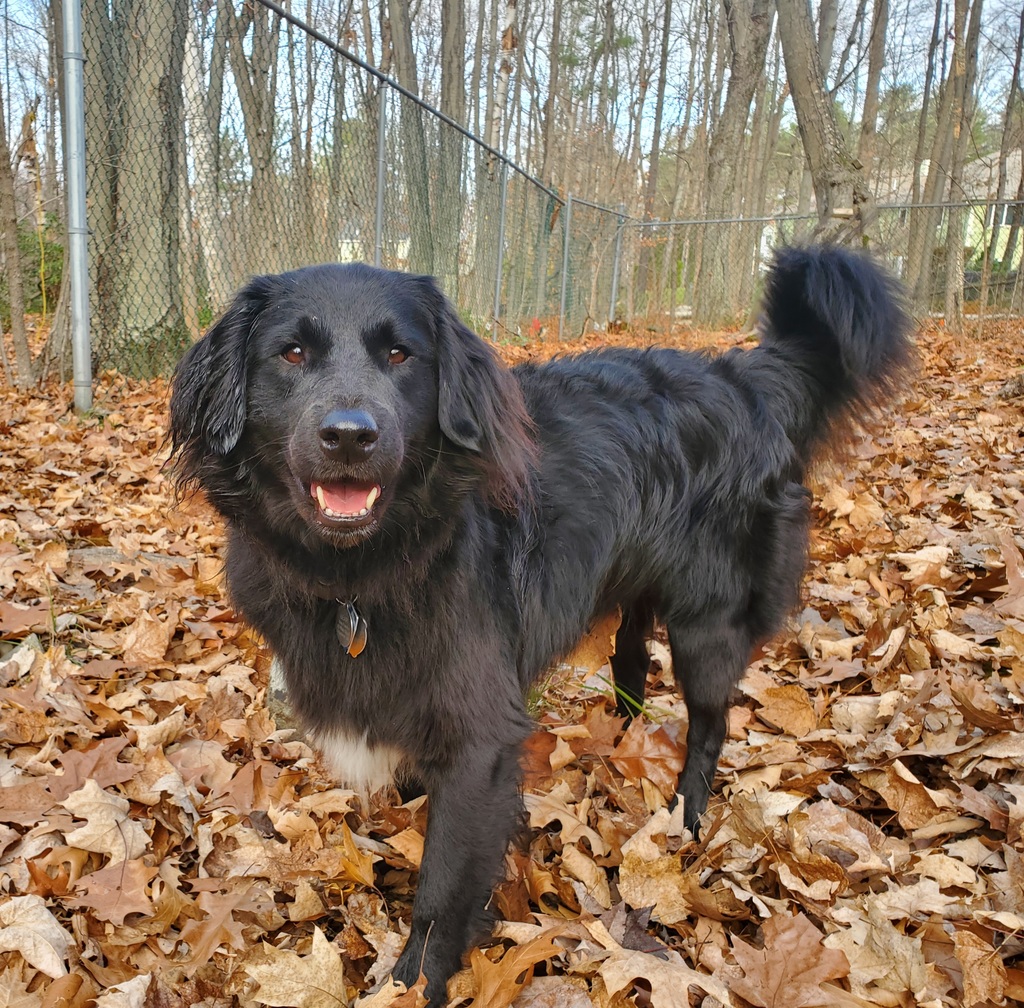 A quick update from the Performing Arts. Please extend a hearty congratulations to the following students that made Central Districts Music. Ethan White Sofia Santoro (with an All State recommendation) Max Fuellemann (with an All State recommendation) *first chair Oliver Erz (with an All State recommendation)

Early Release - just a reminder that tomorrow, Wednesday, 11/23, is an early release day due to Thanksgiving weekend. Students will be dismissed at 10:50. I wish you all a Happy Thanksgiving and have a great weekend. Thank you.