Open House was a great success. Thank you to all who came out and of course to all of our Middle teachers, staff and student volunteers.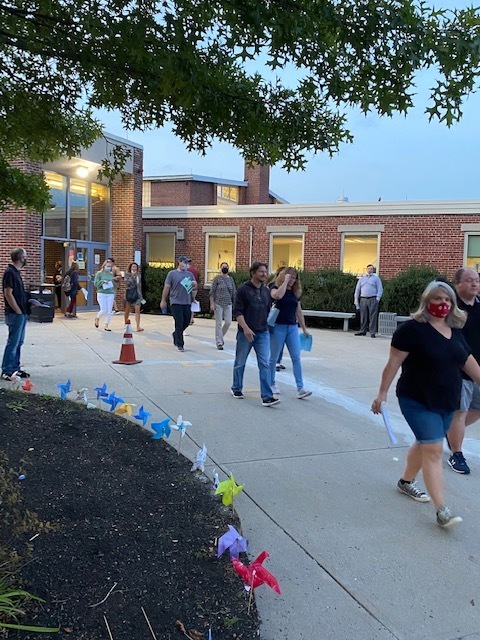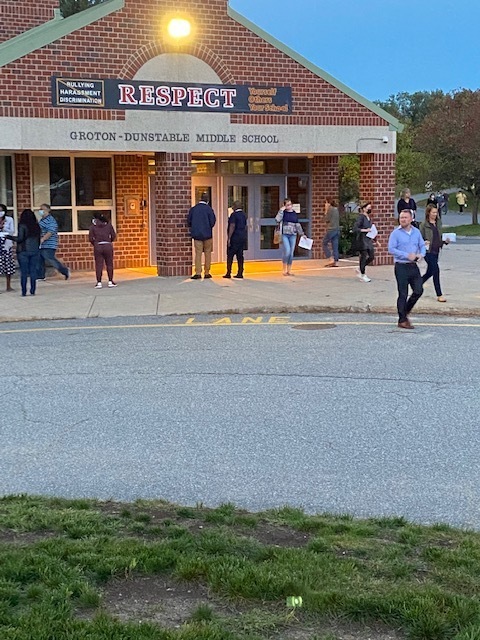 The Official 2021-2022 GDRMS Handbook has been posted under 'Documents'. Please take a moment to review this information for the upcoming year!
Looking forward to seeing all of our parents tomorrow night at Open House from 6-8. Don't forget to only come to your sessions. Thank you
Don't forget Middle School Open House, Tuesday 9/21. You will follow your child's schedule and attend the time frame based on your child's last name. A-K 6:00-6:50 L-Z 7:00-7:50. More information to follow in my weekly memo. Looking forward to seeing you on Tuesday

Officer Breslin and two students hoist our American flag outside the middle school this morning.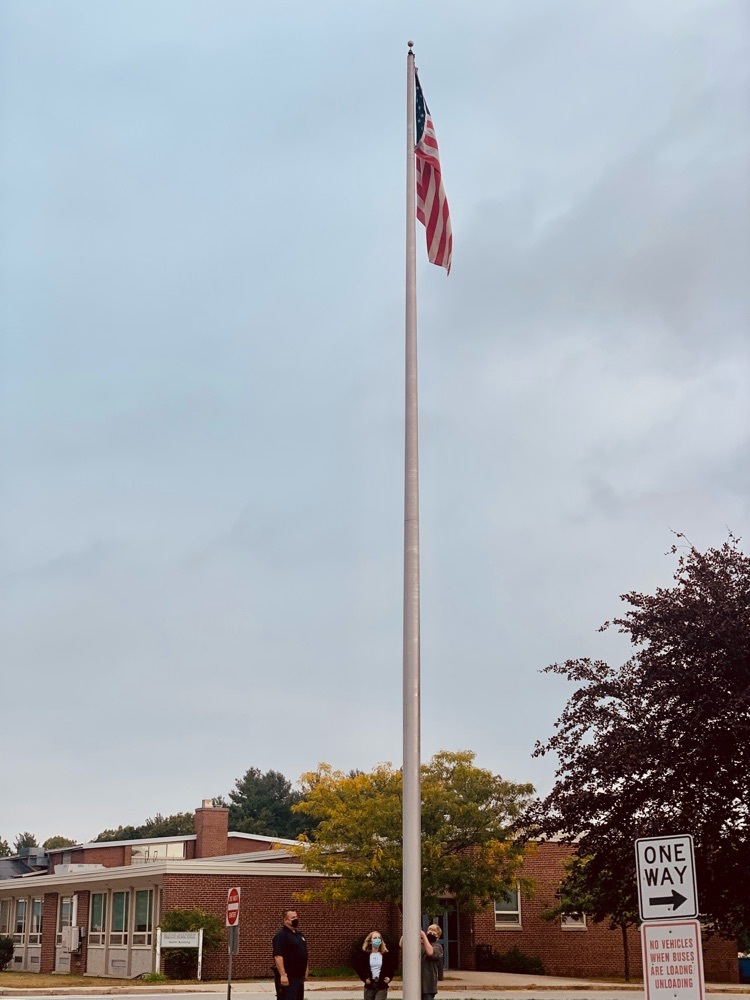 Starting on September 13th, the GD Volunteers Club will be working with Catie's Closet to host a two-week clothing drive through Florence Roche, Swallow Union, GDRMS, and GDRHS. This nonprofit organization collects and distributes clothing to special "closets" in schools with large numbers of homeless students. These closets provide the attire needed to feel comfortable and confident in school. There will be collection bins located outside of the offices of each school in order to create a safe and contactless transfer. Any new or gently used clothing or shoes would be greatly appreciated.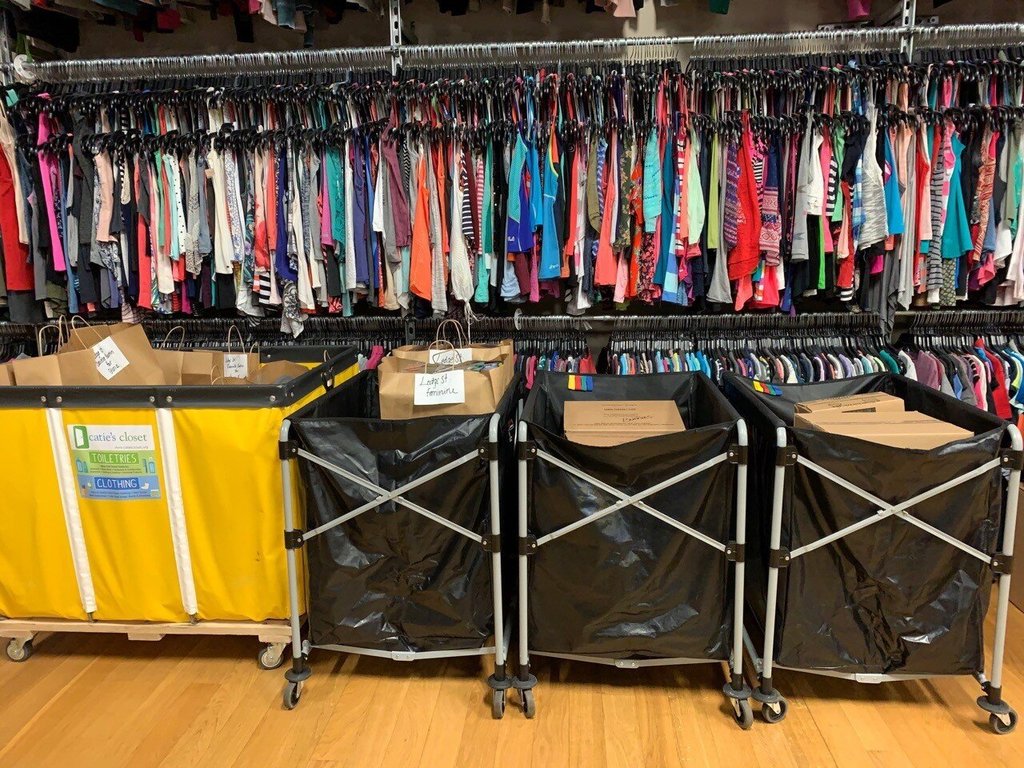 Don't forget to check out 'Dining' from our new app menu! This is a great way to view upcoming meals at your child's school! Special thanks to Ms. St. Laurent for adding meals to our new app!
Hello, Happy day 2. Tomorrow is an early release, 11:30. At this time, your student will not be allowed to ride any bus other than their own. Ms. Salvatore
What a great first day we had at the middle school. We look forward to day 2 of our 2 day cycle tomorrow.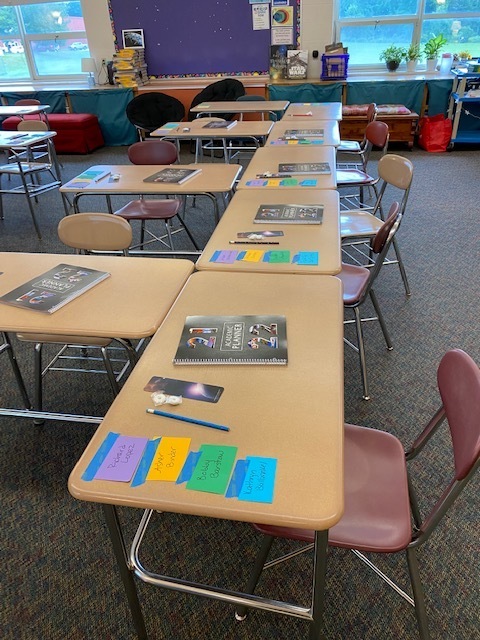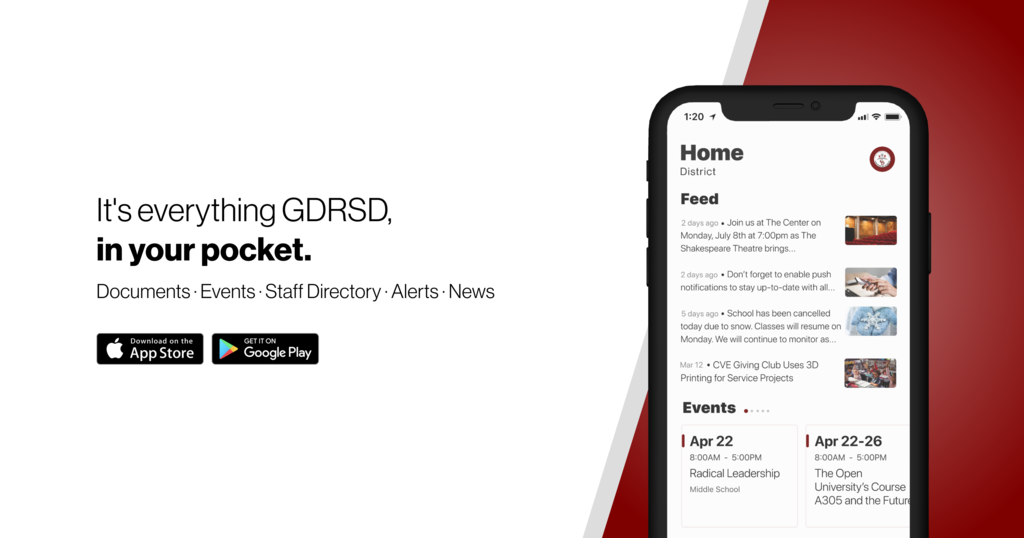 Middle school schedules will be printed for all students grade 5-8 and distributed on the first day of school.
Happy last Friday of summer to all of our GD families. We are all looking forward to greeting and meeting your learners on Wednesday September 1st. School starts at 8:08. Our buss schedule is on the transportation page and drop off procedures are on the site under, "News". Enjoy your weekend. Ms. Salvatore
The Official 2021-2022 GDRSD School Calendar (revised 8/25) has been posted under 'Documents' at each school and the district website! #gdrsdchat
Please visit our new 'School Hours' page for start and end times for the upcoming year! |
https://www.gdrsd.org/page/school-hours
| Start and end times are also listed on the footer of all pages at each school! #gdrsdchat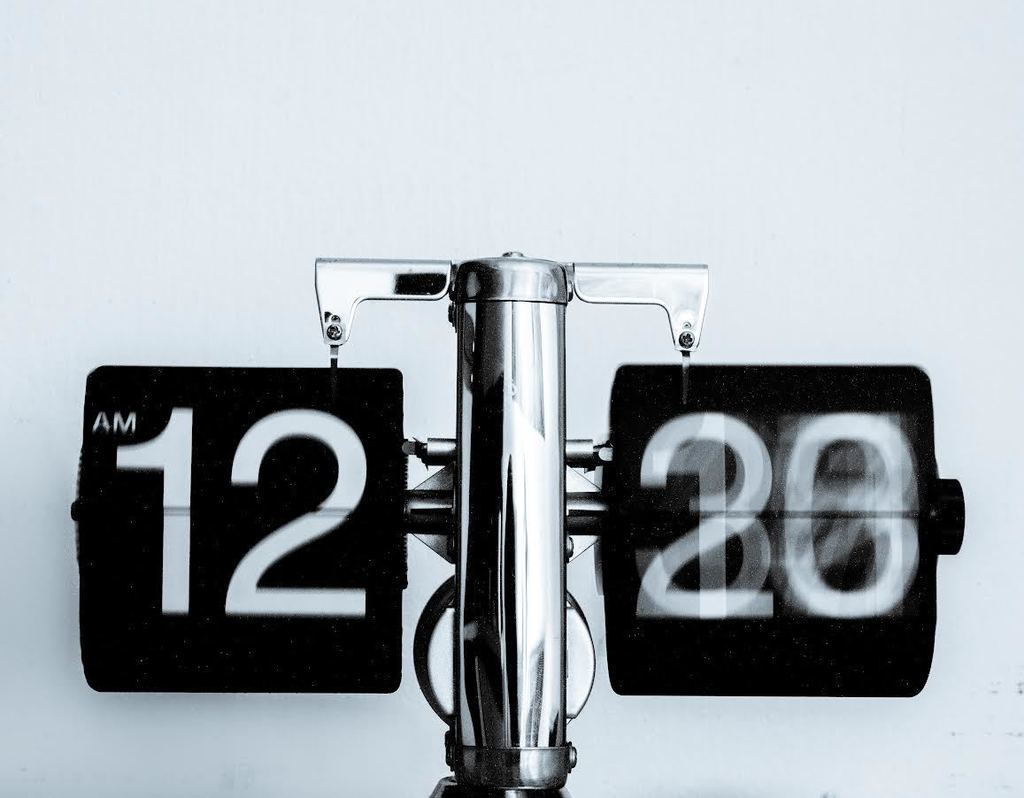 We're thrilled to announce Groton-Dunstable Regional School District's new app! Access documents, events, news updates, even emergency notifications. Download the app on Android:
https://bit.ly/3ed36NY
or iPhone:
https://apple.co/3k91J6Q
.
Great meeting today with Mr. Callahan... Check out my first live feed!
Google Chromebooks and carts being cleaned by the Department of Technology & Digital Learning! Making sure all student devices are perfect for the first day of school!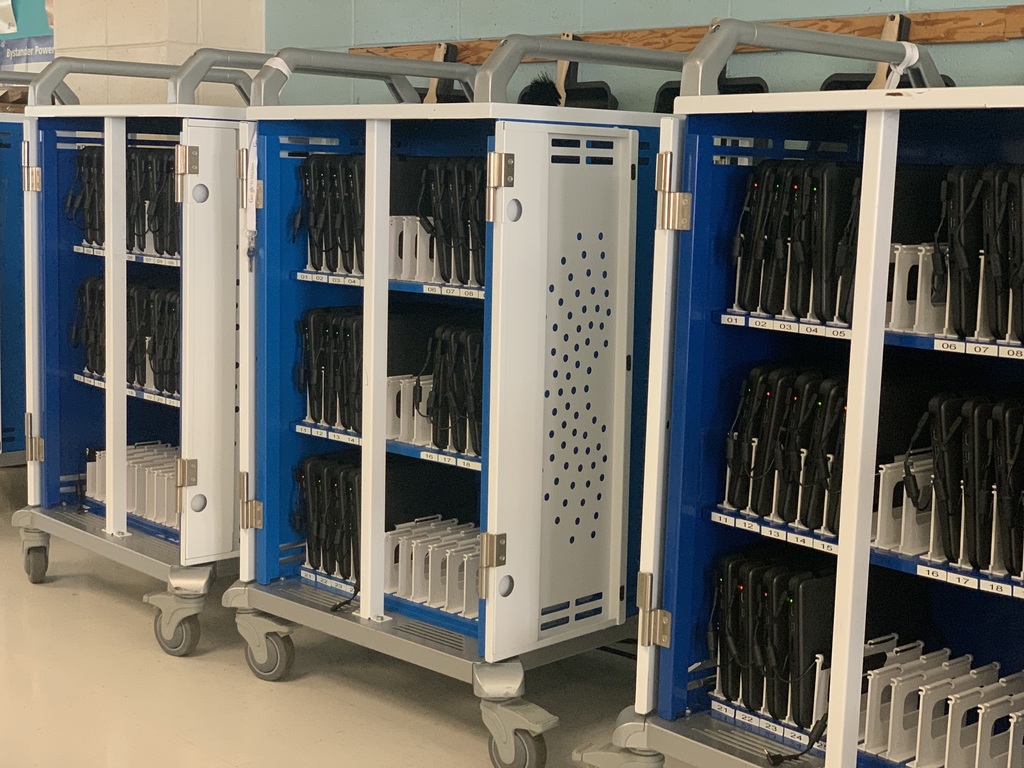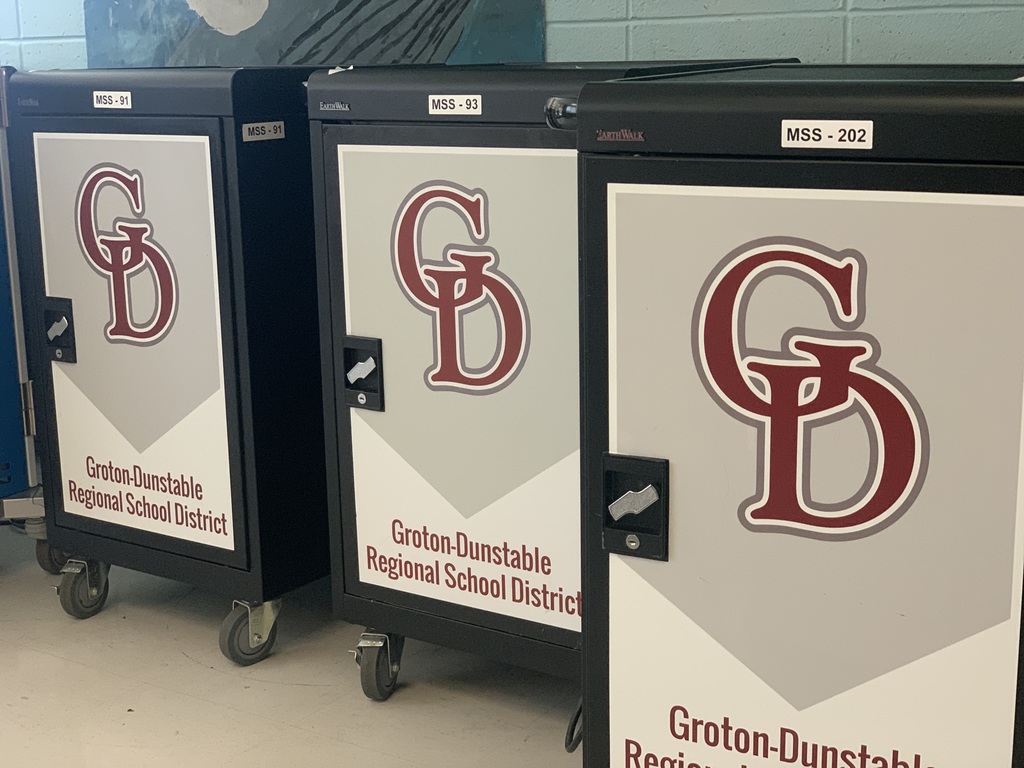 Welcome to Groton-Dunstable Regional Middle School's new website and mobile app!